Inception CRM Version 2022.8 is now available in the App Store.
Introducing key improvements to Inception CRM's Search, Orders, and Contracts modules, along with other improvements and optimizations.
Introducing Activity Previews
We've just made reviewing customer activity histories a lot easier. Users can now preview activities right inside the Customer Card. Previously, clicking on an activity summary in the Recent Activities tab opened the Activity Detail in the Planner. This was cumbersome for users who simply wanted to quickly check an event without leaving the Customer Card to see if it was the one they were looking for.
Inception CRM Version 2022.8 solves this problem by giving users the option to either preview an activity or open it in Planner. If it's not what they're looking for, they can simply close it and move on to the next one. The preview includes a button that gives the user the option to open it in the Planner where they can work with it.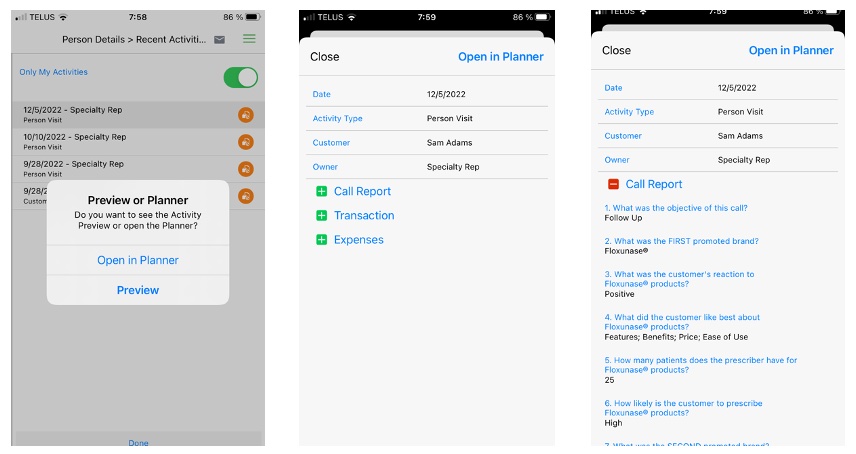 Another benefit of this change is it makes it possible to review a customer's activity history in the Planner without leaving the current activity detail. This is a great asset for pre-call planning since the user can open the customer's card from the activity they're currently doing (e.g., a scheduled call for today) and review summaries of previous visits prior to their call.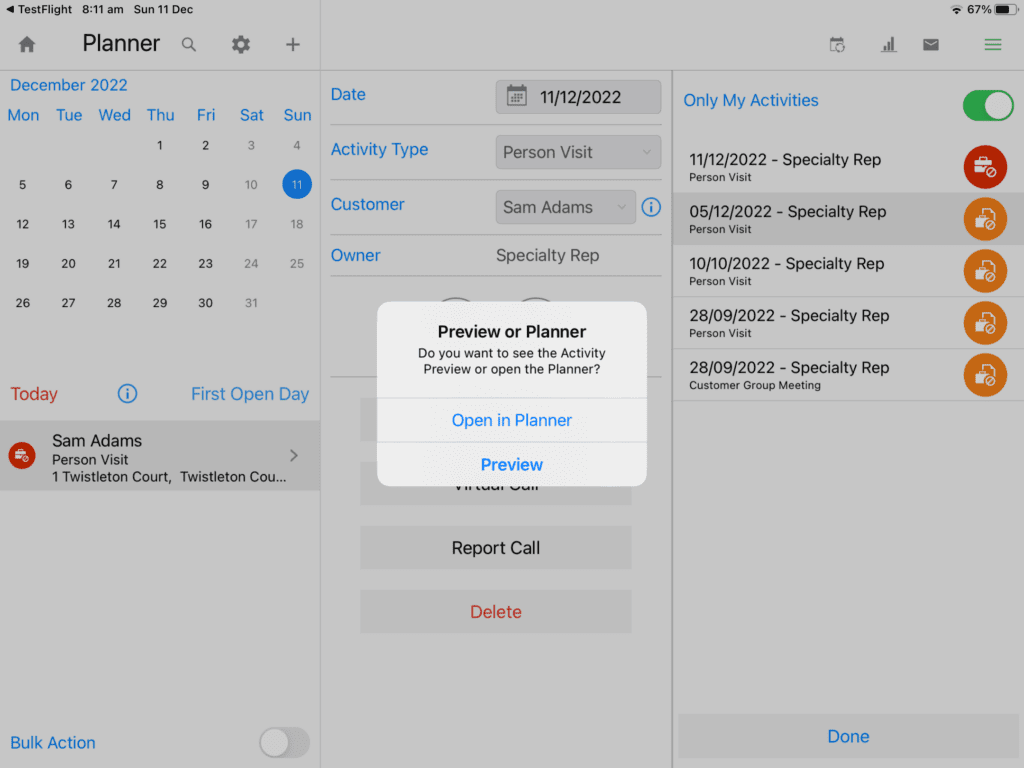 Introducing Order Attachments
Our users have spoken and we have listened. Inception CRM Version 2022.8 brings you, as requested, the ability to add attachments to Orders. Previously, any reference documents for an order needed to be attached to a corresponding call report, or else uploaded and attached directly to the customer record in the Customer Card.
Now, users can attach scans of signed order slips, confirmations, or other relevant hard copy docs right inside the Order Summary, linking attachments directly to an order and making them easy to find later.
Ability to Read Field Values from Parent Contracts
Inception CRM Version 2022.8 introduces new dynamic elements to Contracts. Fields in subordinate contracts (i.e., child contracts) can now read field values from their parent contracts.
This is especially helpful when working with linked contracts that share common fields. It saves users time and eliminates the risk of data errors since users don't have to re-enter the same information again. It also provides users with helpful reference information they can use to complete the child contract.
Linked contracts that share a common field with a parent contract and are bound to the same customer will automatically populate the shared field with the value from the parent contract.
The setup is incredibly easy. When adding a common field to a new child contract, simply tick the box that says "Load from previous" and, if needed, set it to be read-only so that users working with child contracts can't modify it.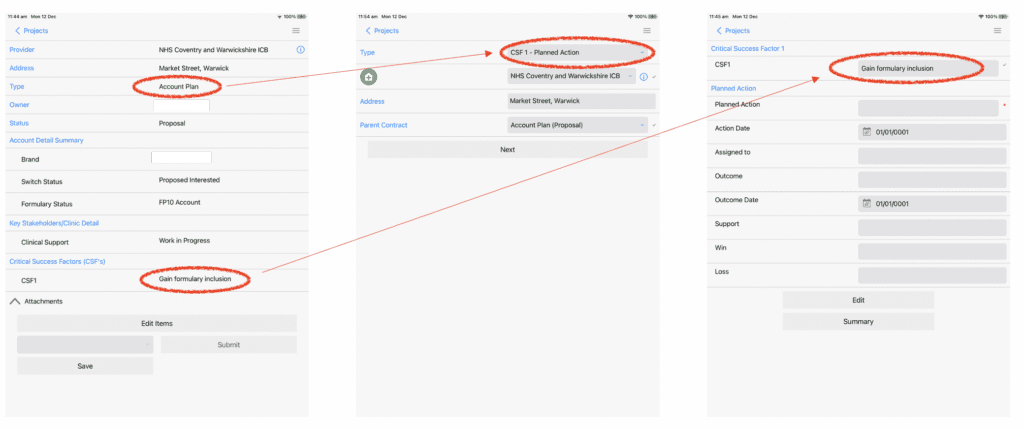 New Email Field Validation in Contracts
Finally, Inception CRM Version 2022.8 brings a small but important change to the way emails are handled in the Contracts module. Email fields now validate entered addresses for correct formatting, helping users avoid common mistakes.
While Inception CRM stores valid professional email addresses for customers as part of each customer's record, customers sometimes request to have a contract sent to an alternate (personal) email address that is not on file. When creating new customer contracts, users can now capture alternative email addresses directly within a contract form itself.
The email fields check to make sure the text the user enters corresponds to standard email format requirements (e.g., includes a handle, @ symbol, and a domain) reducing the possibility of user error.
Want to try Inception CRM but don't have an account? Book a demo.
After a brief guided tour, we'll give you access so you can try it yourself.