Inception CRM Version 2023.1 is now available in the App Store.
2023 is bringing big changes and a bolder vision to Inception CRM. Our first release of the year kicks things off with a few features our users have asked for. These include key enhancements to Inception CRM's Media, Contracts, Planner, and Settings modules, along with various UI improvements and optimizations.
Ability to preview approved emails when sharing media
Users trigger approved emails whenever they share media with customers. Approved emails contain audited download links to the media files being shared. With Inception CRM version 2023.1, users can now preview approved emails before sending them.
Previously, users could only select the media they wanted to share and the email address to which it should be sent. Now users have the option of previewing these emails before sending them.
Soon, we plan to introduce the ability for users to personalize emails based on approved templates. Users will be able to customize approved email templates as needed, enabling a more personal touch, while respecting company rules.
So, stay tuned for new developments as we make this feature more flexible and useful for users.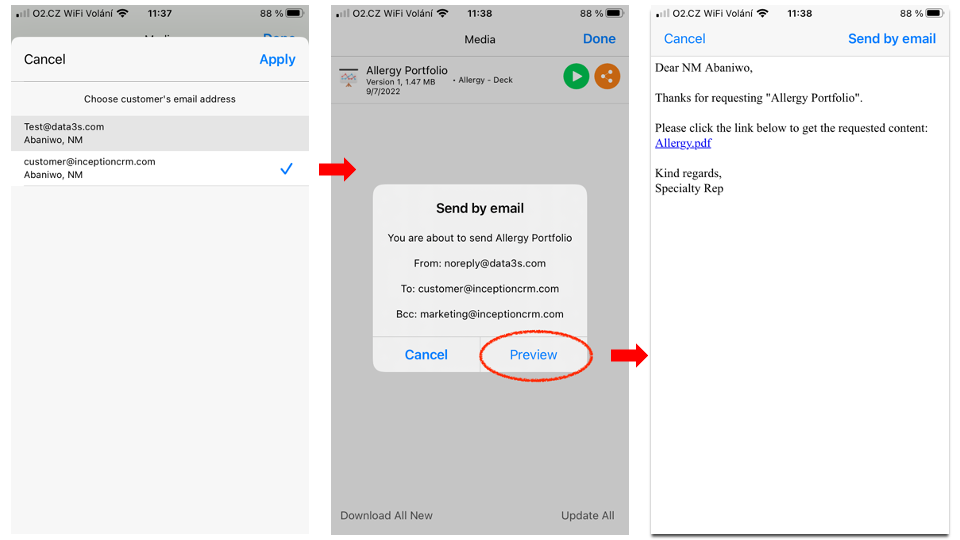 New "Check for Update" button in Settings
We are obsessed with making sure our users get the features they need, quickly. This requires a fast pace of development and frequent updates. To help our users to stay up-to-date with the latest versions we've introduced a new "Check for Update" button in Settings.
This button gives users an easy way to check whether they're using the latest version or need to update their app. When an update is needed, the app opens the app store, allowing the user to immediately update to the latest version.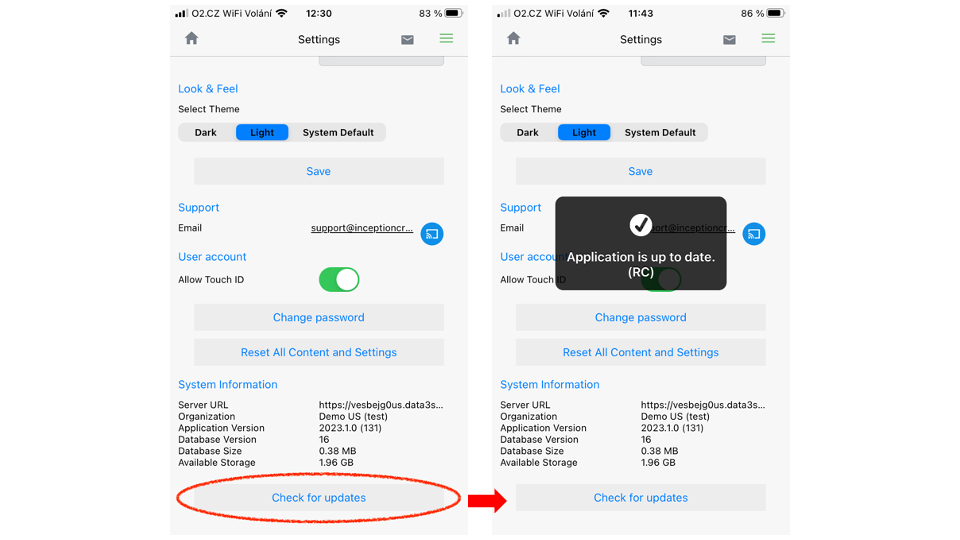 New read-only fields in Contracts
In version 2022.8 we introduced the ability for sub-contracts to read field values from their parent contracts. Inception CRM version 2023.1 introduces the ability to make those fields read-only.
This makes sense for fields that should not be modified but are included only for reference. Making reference fields read-only avoids accidental edits and reduces potential data conflicts that can result from them.
To keep Inception CRM flexible for our customers, however, we've made it easy for admins to configure whether inherited fields are editable or read-only, depending on how they want users to interact with them.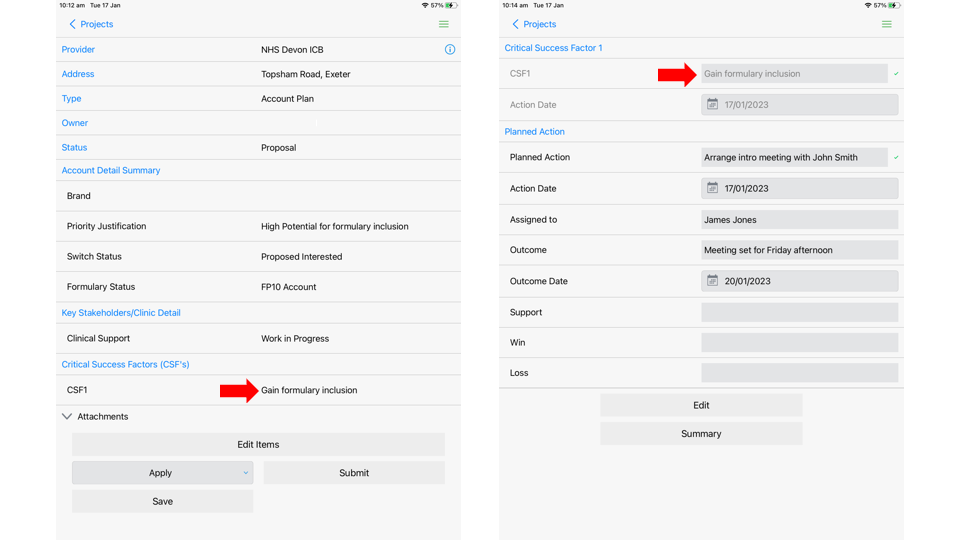 User interface improvements reps will appreciate
We want to deliver a superb user experience. To that end, we constantly look for ways to improve Inception CRM's user interface. With this version, we're introducing new controls for expanding linked items in Activity Details, along with a better way of presenting attachments wherever they're displayed.
New Controls for Expanding Linked Items in Activity Detail
Our users appreciate the ability to view transcripts of call reports, expense reports, warehouse transactions (i.e., sample drops), and orders directly inside the activity detail they're associated with. It makes things easier to find by combining a lot of related information in one place.
Version 2023.1 improves this feature. It replaces the previous "expand" button with a more modern "dropdown" control that improves the way these transcripts are displayed.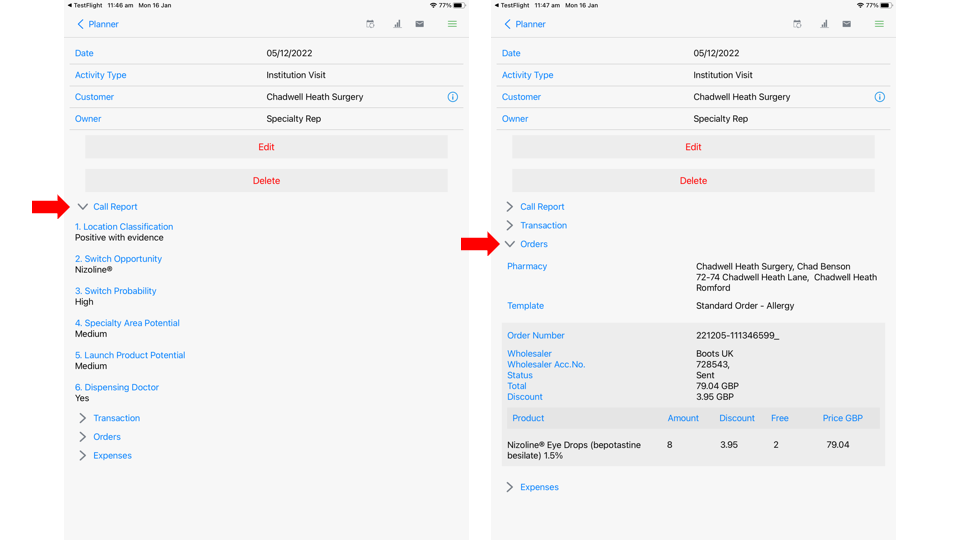 Simplified Display of Attachments
We've also improved how attachments are displayed. Users often capture attachments when recording calls, expenses, contracts, sample drops, and orders. These include camera images as well as uploaded and system-generated PDFs, which are displayed alongside their parent records and in customer cards.
Previously, the app used a "paperclip" icon to indicate attachments instead of a thumbnail. To view attachments, users had to open them. Version 2023.1 replaces the paperclip icon with a small preview of the attachment itself. Users can now easily review attached images without opening them.
Going forward, we will introduce new editing options for attachments. Users can already resize and change the orientation of uploaded photos, but we also will give them the option to name their files using custom text, replacing the system IDs currently assigned to all attachments. Stay tuned!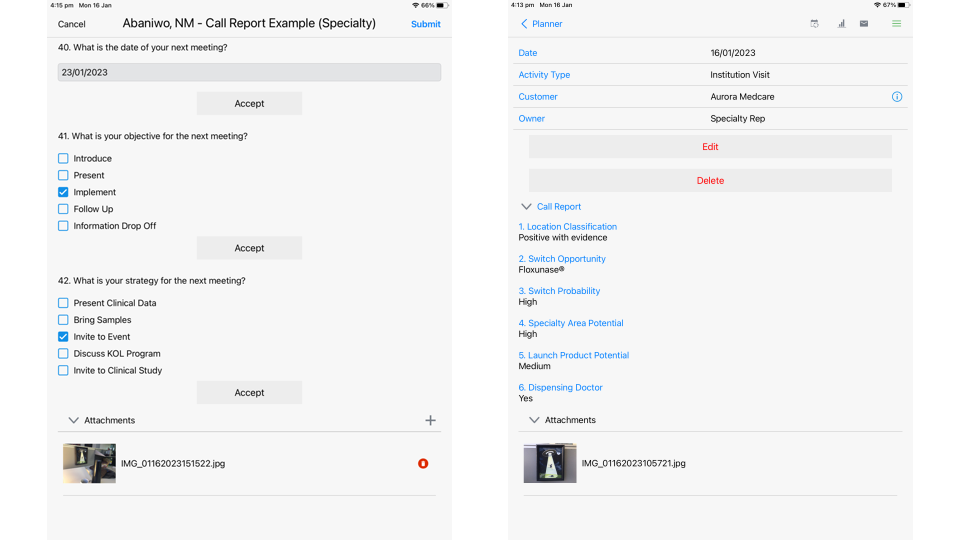 Want to try Inception CRM but don't have an account? Book a demo.
After a brief guided tour, we'll give you access so you can try it yourself.